Overview
DBOE is a decentralized options trading platform that enables users to trade options contracts on a peer-to-peer basis without intermediaries or centralized exchanges. The project aims to provide a decentralized and transparent options trading platform that is accessible to anyone with an internet connection and an Ethereum wallet. 
What cryptocurrencies can be traded on DBOE?
DBOE currently only supports ETH options trading on its decentralized platform, but the team has plans to add more cryptocurrencies in the near future. Traders can still take advantage of the platform's unique features, including the centralized order book, the bull and bear spread with a strike price and target price, and the referral program that allows traders to invite friends and earn substantial rewards.
What types of options does DBOE Exchange offer?
DBOE Exchange offers European options contracts with four distinct positions available for traders. These positions include long call, long put, short call, and short put options. Traders can take either a long or short position on a call or put option, giving them flexibility in executing their options trading strategies. By offering these four positions, DBOE Exchange provides traders with the ability to hedge against market volatility, speculate on price movements, and execute other sophisticated trading strategies.
What is Bull and Bear Spread on the DBOE platform?
Bull and Bear Spread is a trading strategy that can be used in options trading to limit potential losses while still allowing for potential gains. The Bull Spread is used when a trader expects the price of the underlying asset to increase, while the Bear Spread is used when a trader expects the price to decrease.
On DBOE, traders can use Bull and Bear Spread with a strike price and target price to optimize their trading strategies. By setting these parameters, traders can control their potential losses and gains. 

Figure: Bull and Bear Spread in DBOE Option Chain
What is KYT on DBOE?
KYT (Know Your Transaction) is an anti-money laundering solution applied at DBOE. Unlike KYC (Know Your Customer), KYT doesn't require personal information from users. It monitors transactions through a large data warehouse to identify suspicious activity and ensure compliance with AML and TF regulations. DBOE chose to use KYT from Chainalysis, a leading blockchain analytics provider to maintain the decentralized nature of their exchange and ensure user safety and credibility. In addition, the use of smart contracts ensures secure transactions without the need for third-party involvement. By implementing KYT standards, DBOE sets itself apart as a trustworthy and reliable decentralized options trading platform.
DBOE Trading Fees
DBOE charges trading and clearing fees for all trades executed on its platform. The fee structure is tiered and varies depending on whether the trader is a maker or a taker. 
Makers are charged a fee of 5 bps (basis points) of the traded notional, while takers are charged a higher fee of 25 bps. 
To illustrate how these fees work, let's take an example of trade for 2.5 Option X at a price of $75:
For the maker side of the trade, the trading and clearing fee would be calculated as follows: 2.5 * 75 * 5 / 10000 = $0.09375. 

For the taker side of the trade, the trading and clearing fee would be: 2.5 * 75 * 25 / 10000 = $0.46875. 
*Notice: It's important to note that DBOE reserves the right to change this fee structure in the future.
DBOE Mobile App
DBOE offers a mobile app for both Android and iOS users, allowing traders to access the platform from their smartphones and tablets. The mobile app provides users with all the features and functionality of the desktop version, including real-time market data, trading, and portfolio management. With the mobile app, traders can stay up-to-date with the latest market trends, monitor their positions, and execute trades on the go. The app is designed to provide a seamless and intuitive trading experience for both novice and experienced traders.
You can access the DBOE Mobile App for both iOS and Android.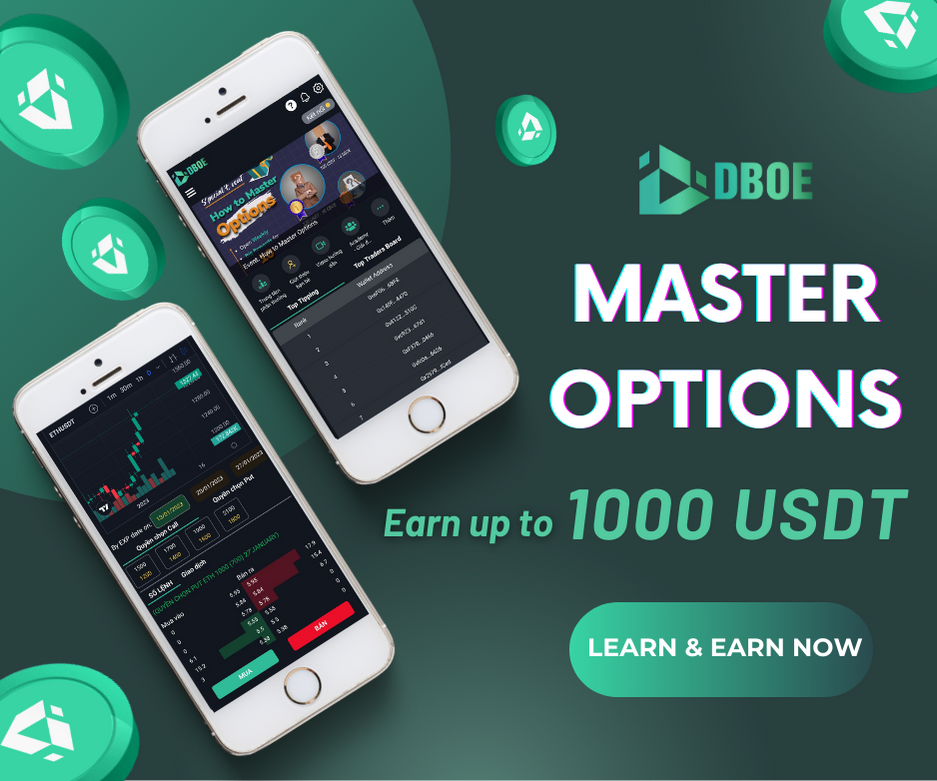 DBOE Referral Program
Introducing the DBOE Referral Program – a thrilling incentive scheme that rewards users for inviting friends to join the platform. This new program offers a unique opportunity for users to earn extra income and expand their network on the platform. With just a few simple steps of connecting their wallet and confirming their email address, users can share their exclusive referral link with their network and start earning a percentage of their friends' trading fees on DBOE. It's that simple!
DBOE Referral Program is a win-win situation that not only benefits users financially but also encourages platform growth through referrals. Don't miss out on the chance to earn extra income while expanding your network. Sign up now and start reaping the rewards!
Join DBOE referral program and start reaping the rewards: https://dboe.exchange/invite