DBOE, a prominent Option DEX initiative, is delighted to announce the appointment of distinguished mathematician Vladimir Barzov to its esteemed advisory team. Leveraging his exceptional proficiency at the convergence of mathematics, technology, and finance, Barzov assumes a pivotal role in shaping the trajectory of DBOE's decentralised option trading platform.
DBOE is an Option DEX project that provides a secure and capital efficient platform for decentralised option trading, ensuring the safety of both buyers and sellers without the need for custodial services.
DBOE was established in 2022 with the goal of solving the complex over-collateralisation issue in the Decentralisation Finance (DeFi) space to be more capital efficient and driving the higher adoption of DeFi in every day.
Vladimir Barzov's Profile
Vladimir is a math whizz with 3 IMO gold medals under his belt, placing him in the top 20 of IMO "Hall of Fame". He earned a dual degree in Math and Economics from MIT and an MBA from INSEAD. He has worked for majors like Goldman Sachs and Google across the US, Japan, Switzerland and Singapore. Vladimir was an early pioneer in crypto, having launched a Bitcoin centralised derivatives trading venue back in the distant 2013, when leverage, lending, and fast streaming protocols were not a familiar sight in the crypto space. Although the project turned out to be before its time, it paved the way for a lot of the product and technology learnings that underpin the DBOE platform design today.
Vladimir joined DeFi Board Options Exchange (DBOE) as a professional advisor in March 2022. His guidance focuses on the mathematical aspects given their complexity, namely: pricing models, volatility surface management, and overall risk management. He also advises on the product design specifications, which must cater to the demands of both retail and institutional clients. Vladimir's involvement has greatly enhanced the robustness of the product.
David Nguyen, one of the founding members of the project and who has worked with Vladimir in the past, was particularly excited to welcome him to the team on account of his expertise and experience in both options trading and trading platform design. In his own words: "the DBOE community is honoured to have Vladimir Barzov advising the project. His exceptional thought leadership and visionary insights will help the project achieve its ambitious goal of providing a secure and highly efficient decentralised option trading platform".
Advising DBOE for a safe Web3 Option trading platform
When approached by one of the founding members, Vladimir shared that "DBOE's unique approach to risk management and capital efficiency intrigued [him]". He was particularly interested in the project's ambition – and unique approach – to delivering the entire trading pipeline onto the blockchain: from matching to clearing to final settlement, which has so far eluded many previous attempts by other teams.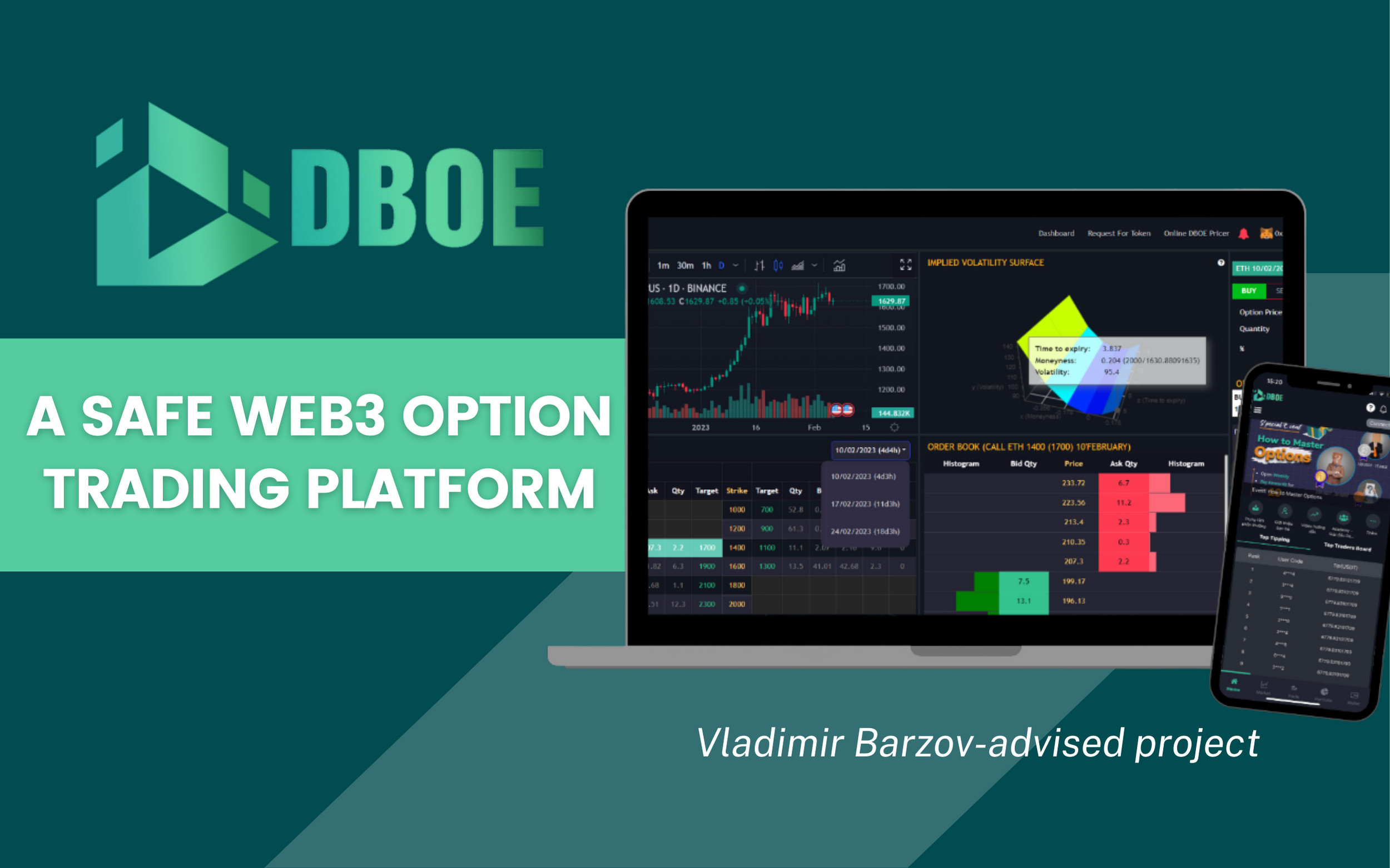 DBOE's core competitive advantage is bringing a traditional order book (CLOB) onto the blockchain, which till date remains the holy grail and last unsolved problem that has prevented DeFi projects from being "fully Defi".
This approach offers scalability with minimal capital requirements for buyers and sellers, surpassing other matching and liquidity providing mechanisms in both capital efficiency and security. DBOE's option design is also innovative, simplifying the complex margining process adopted by traditional exchanges and brokers. The absence of counterparty risk eliminates the need for an insurance fund typically required by centralised exchanges.
On DBOE's potential for success, Vladimir remarked: "There are many interesting problems involved with making an options market liquid, safe and secure. DBOE stands out not only in their approach to risk management and product design but also in their approach to user experience and community building. The geographic focus and the unique product design give them a first mover advantage in the space, and while a lot has already been done, there is still a long road ahead as the blockchain itself is young. I will thoroughly enjoy journeying together with DBOE down this path."
With the recent launch of ETH Options on the mainnet and a planned go-live date of mid-June 2023, featuring a hundred percent on-chain Central Limit Order Book (CLOB), DBOE is primed to revolutionise the industry by providing unparalleled transparency, liquidity, and opportunities for decentralised finance. The future looks incredibly promising as DBOE continues to push boundaries and redefine the landscape of decentralised option trading.
Press Contact
Name: Anne Vu – Public Relations
Mobile: (65) 8878 8589
Email: inbox@dboe.io
Website: http://www.dboe.io | https://academy.dboe.io/ | https://dboe.exchange/