On October 19, 2022 in Singapore, DBOE (DeFi Board Options Exchange) officially announced that it will cooperate with Chainalysis, applying KYT (Know Your Transaction) solution to enhance security. confidentiality, strengthening the trust of users as well as partners and investors.
Chainalysis is a digital asset industry leader in Blockchain data analysis, headquartered in New York, USA. Founded in 2014, Chainalysis now has more than 700 customers in more than 70 countries, with revenue doubling every year. The company affirms its mission to "build trust in blockchain, to promote financial freedom with less risk."
Chainalysis plays a key role in many investigations related to cryptocurrency crimes around the globe. Gurvais Grigg, Chief Technology Officer (CTO) of Global Markets at Chainalysis, affirmed: "There are hardly any major cases related to the crypto market that we have not participated in." Prior to that, this CTO also worked with the FBI for 23 years.
Chainalysis has solved many famous cybercrime cases all over the world. Some of the big deals that this company has handled has helped the US government recover more than $ 1 billion related to Silk Road – once a dark web platform. In 2019, Chainalysis also helped "unmask" Welcome to Video – the world's largest website related to child sexual abuse.
In particular, in August 2021, Chainalysis recognized Vietnam as the world's largest country in terms of cryptocurrency acceptance (According to VnEconomy).
ABOUT KYT SOLUTION (KNOW YOUR TRANSACTION)
KYT (Know Your Transaction) is a solution provided by Chainalysis. KYT has the function of controlling real-time transactions, including virtual currency transactions, banking and other activities.
Unlike KYC (Know Your Customer) which requires identity verification, comes with legal documents such as citizen identification, passport and needs to provide personal information of users, DBOE chooses the solution. KYT solution provided by Chainalysis – does not require identity verification but still guarantees Anti-Money Laundering (AML) and Financing of Terrorism (TF), thanks to Chainalysis having a large data warehouse available to control, manage and find out unusual and dangerous transaction addresses.
It is perfectly reasonable for DBOE to apply KYT instead of KYC when both complying with AML and TF regulations to ensure the credibility and safety of users, while maintaining the characteristics of a decentralized exchange. Decentralized Exchange – DEX) is to allow users to trade anonymously through smart contracts, secure personal information and not through any 3rd party.
DBOE WITH KYT - LEADING THE FUTURE TREND OF OPTIONS TRADING
By applying the KYT solution provided by Chainalysis, DBOE is empowered to real-time manage cryptocurrency addresses on the DBOE Exchange platform, thereby identifying potential illegal activities. (if). With this solution, DBOE exchange is increasingly receiving the attention, praise and trust of many investors, partners and users in the financial world, has the potential to lead the future trend of options trading.
Options being evaluated will create the 3rd biggest wave in the crypto market. David Nguyen – Co.founder of DBOE said: "When founding DBOE, we set a mission to bring to the crypto community an options market with an open future, superior products and optimal management. risks while ensuring compliance with regulations of regulatory agencies."
Mr. David also added: "Chainalysis will provide solutions to DBOE related to regulations, to help us grow and build our global reputation. We affirm our transparency and willingness to comply with legal regulations, not only in the initial stages but also throughout the entire operation of DBOE."
DEFI BOARD OPTIONS EXCHANGE - SAFE, SIMPLE, EASY TO USE
DeFi Board Options Exchange (DBOE) has an optimized interface, specialized for the options market, makes cryptocurrency trading simple and low-risk for users, and combines the best features of the DeFi Board Options Exchange (DBOE). centralized finance (CeFi) and decentralized finance (DeFi).
DBOE also combines high liquidity with a pricing mechanism using a Central Limit Order Book (CLOB), on a decentralized finance (DeFi) basis that allows investors to manage their own wallets. DeFi with the lowest transaction costs and the highest security.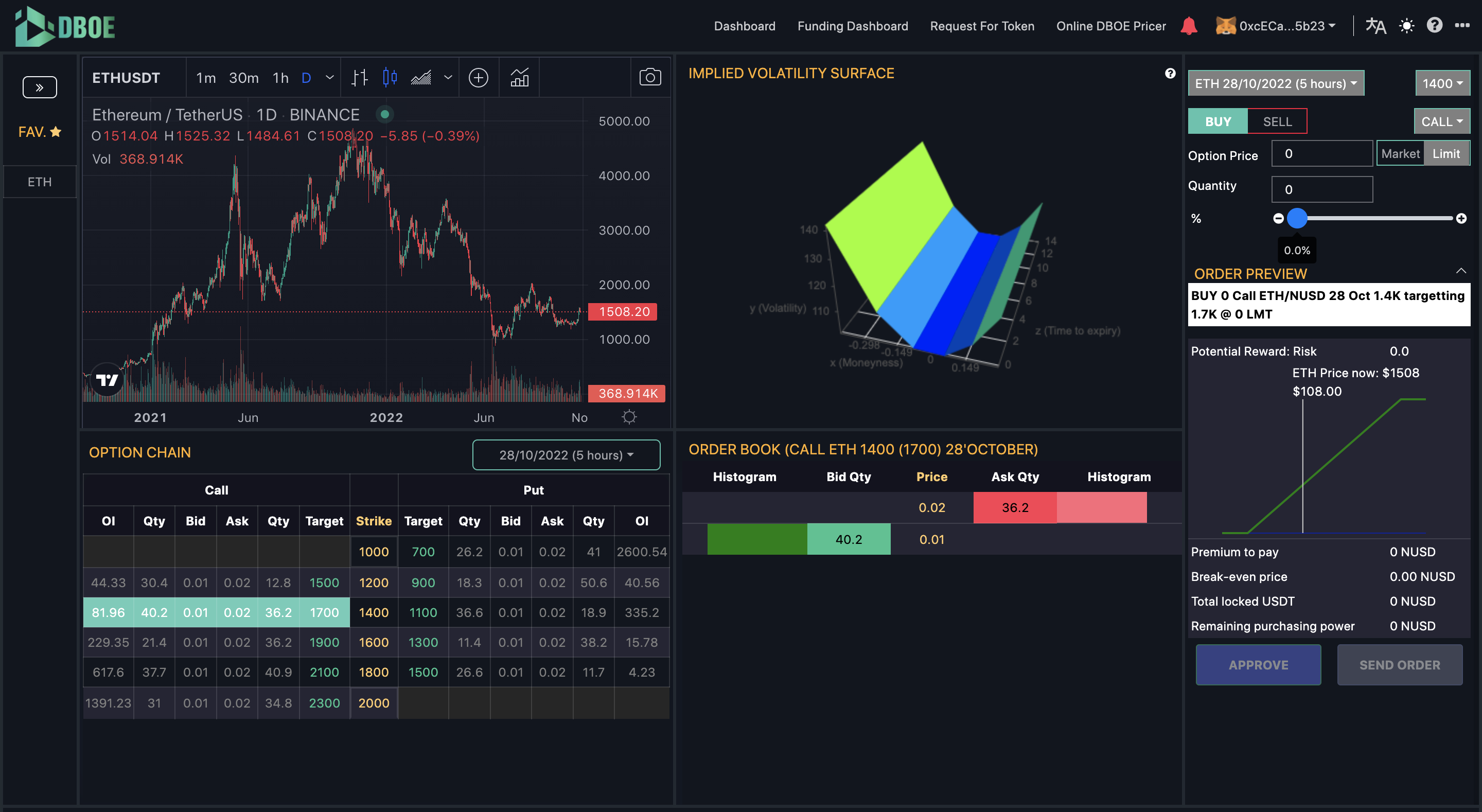 Users can instantly transact with DBOE in just 4 simple steps. In particular, DBOE also built DBOE Academy – a website that provides general knowledge about Blockchain, Web3, DeFi, Options, Cryptocurrencies… with many useful events, both supplementing investment knowledge and giving allows users to trade rewarded demo accounts with ETH (completely free when participating in demo trading).